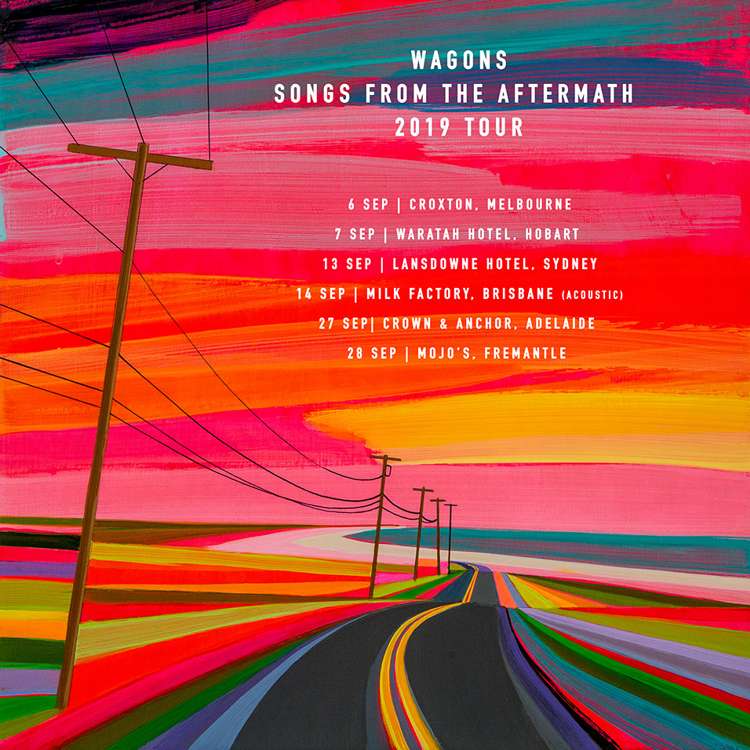 Spunk Records, Caroline, We Manage & Select Music presents:
Songs From The Aftermath 2019 Tour
Wagons
$30.00 + BF
Entry Requirements: 18+ (ID Required)
Buy Tickets
WAGONS
"KEEP ON COMING BACK" WITH THE ANNOUNCEMENT OF A NEW SINGLE, ALBUM AND AUSTRALIAN TOUR
Wagons are making their triumphant return to 2019 releasing their first new music in five years, with an unquestionably catchy new single "Keep on Coming Back". This melodic masterpiece incorporates all the elements of the classic Wagons sound, with a brand new spiralling twist.
"Keep on Coming Back" is a collection of recurring memories, ear-worms, strange habits, and scars; the way things can hover in space and time and how a single experience or place can prompt an old memory and inspire the future all at once. The nuts and bolts of the song take place in and around Claremont, Los Angeles, in the foothills of Mt. Baldy where Leonard Cohen lived out much of the end of his life, and where lead singer Henry Wagons' father lives now.
Wagons are also excited to announce the release of their new album "Songs From The Aftermath", out on Friday 9th August, along with an Australian tour throughout September. This upcoming album is the band's first since 2014.
According to the band, "'Songs From The Aftermath' cascades through random visions and emotions, like a long road trip through the night."
Wagons stay atop their own tidal wave of hard-hitting, outlaw inspired, swamp rock madness, still pulsing and stomping together as a joint force, with singer Henry Wagons at the helm. Henry's fierce intellect, once hurtling toward a career as a philosopher, was thankfully derailed by a record deal, a thirst for whisky and an insatiable need to make noise, as made evident by their music and lyrics.
Producing six albums together, the band have garnered an increasing list of awards and achievements including 'Album of the Week' on RRR, PBS, RTR, 2SER, Edge radio, The Age / EG 'Best Band' & 'Album of the Year', Rhythms Magazine 'Album of the Year', AIR 'Country Album of the Year'*, plus *Melbourne Magazine naming Henry Wagons in the 'Top 100 Most Influential People'.
The group have been regularly compared to the cheekiest and most mischievous of musical outlaws, from Johnny Cash to Nick Cave and have circled the globe testing the fortitude of some of the biggest stages at Bonnaroo, Bluesfest, Interstellar Rodeo, Laneway, Bumbershoot, Big Day Out, Out On The Weekend, Queenscliff, Ottawa Blues, as well as SXSW and Americana showcases.
"Wagons makes sly rock 'n' roll that both intellectuals and pop fans can appreciate." - Nashville Cream